Baht Surge Causes Thai Central Bank to Pull the Reins

What a Stronger Baht Means for the Economy
The Thai baht has experienced a dramatic surge over the past year, climbing 8.3% against the dollar since 2018. This increase is the single largest appreciation of any foreign currency to USD in this timeframe, and has implications for not only the economy of Thailand, but also the digital asset market considering how deeply ingrained it is into the Thai economy. The government is considering its options as such a surge could potentially be deleterious for the country if not addressed properly.
The Impact on Investments
As Thailand's economy is highly export-driven, it is more sensitive to the impact of currency appreciation than others. A stronger baht means that Thai goods become more expensive; purchasers that may have been used to budgeting to fill a quota will now have to supply more funds to purchase the same amount of goods as they have been used to. The appreciation comes at a trying time as Thailand's economy is also experiencing a slowdown, with falling export growth registering at less than half of the government's target of 8%. These two factors acting in concert could curtail economic prospects for Thai citizens, and so the government is looking to act.
As of right now, the Thai Central Bank has not committed to one single path to slow down or reverse the strengthening baht. So far, they have merely communicated loosely and verbally, stating that they are monitoring the exchange rate closely and have not ruled out altering interest rates or asking banks to be less lenient on short-term transactions made by non-residents. However, they are going to control short-term capital inflows and relax restrictions on capital outflows as a balancing mechanism. Economic growth is projected to slow to 3.3% from 4.1% in 2018, and this appears to be a reaction to that. Even the barest word from the central bank can have an impact on how the economy functions, and while they are certainly aware of the path the economy is taking, they seem to be taking a very measured, reasoned approach to the issues.

How Investors Will React
Owing to the slowing Thai economy, it is only natural that Thai citizens will look to save more money to ensure they will be able to weather the economic downturn, and will likely be looking for greener pastures elsewhere. Although the strengthening baht has troubling implications for the economy of the country as a whole, it also means that the currency has more buying power in foreign markets as well as purchasing digital assets. This cauldron of factors means that it is highly likely that Thai investors will look overseas and to alternative assets for the greatest returns given the uncertainty in their domestic markets.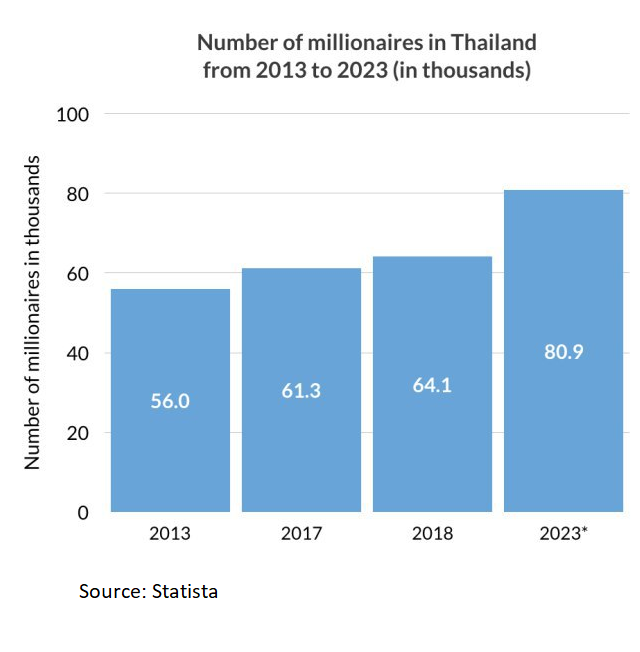 The truth is, although the Thai economy at large may be experiencing at this point is essentially a minor setback, the number of high net worth individuals within Thailand has been growing at a fever pitch over the past decade. There is now a lot of institutional wealth that has been established within the country and with the heightened buying power that their currency now holds they are poised to become power players in alternative assets. As has been reported over the preceding months, Thailand is making it easier and easier to invest in digital assets by loosening regulations and providing government-endorsed ways and means to get involved in the space. However, as of right now, there are no digital asset funds in Thailand except for Varys Capital, which is now seeing a spike in interest from these previously mentioned high net-worth individuals. All of this pent-up new wealth needs a place to go if the domestic Thai market loses its appeal and the digital asset space is certainly a candidate. Wealth management companies and brokerages are now seeing there is an alternative asset client demand they cannot meet, which is driving interest even further in the space.)
Facebook engages with Bank of Thailand over Project Libra
A prime example of this openness is the Bank of Thailand's interest in Libra, the stablecoin that Facebook plans to roll out as a medium of exchange in the near future. The bank is marshaling significant resources to examine the whitepaper, consisting of members from their foreign exchange, payments, and legal teams. They intend to focus on the benefits offered to Facebook's users as well as any potential risks or other unforeseen issues that may crop up around the asset. Additionally, the Thai SEC also plans to engage with the Bank of Thailand this year to assist with regulatory aspects of the coin. Businesses pay as much as 36 million baht to banks in credit card processing fees per year as it is, and with this new disruptive technology coming into play it is in the banks' best interests to ensure they adapt to this new potential playing field.
What's striking about this exchange, however, is that Facebook initiated it, rather than the bank. Thailand's openness and knowledgeability of digital assets are well-known at this point, so if Facebook is looking to expand into this region, it seems only natural that they would seek Thailand's counsel first. There are certainly legislative concerns that need to be ironed out, as Libra as of right now doesn't fit the regulatory mold that Thailand has set for digital assets.
Concluding Thoughts
While it is true that Thailand has some economic challenges in the near future to work through, this certainly does not mean all of the growth and benefit it has enjoyed over the past decade has simply disappeared. It merely means that the investment strategies used will shift from more traditional, domestic offerings to digital assets and other such offerings, especially since such a strategy will take advantage of the country's strengthening currency. Varys Capital is first to market in Thailand with its digital asset offerings and is well-poised to offer investors an unprecedented level of value they cannot obtain anywhere else.

If you have questions about our fund or would like to be sent investor documents, you can contact our investor relations department at contact@varys.capital.