Southeast Asia: A Growing Market Hotspot
Surging Economies and Opportunities Abound
The countries of Southeast Asia that comprise the Association of Southeast Asian Nations (ASEAN), including Thailand, Myanmar, Cambodia, Vietnam, Laos, Brunei, Singapore, and the Philippines are currently undergoing dramatic market shifts that are projected to propel this region to become the fourth largest world economy subsection by 2025. Their surging economies combined with the region becoming a hub of digital asset adoption represents a trove of opportunity for investors in this space. Three key measurements, in particular, are of interest here, including the growing economic muster of millennials and digital natives, the growing penetration of smartphones and other digitalizing measures, and the continuing growth and integration of technology and computer services within company operations in the region.
Cycle of Trends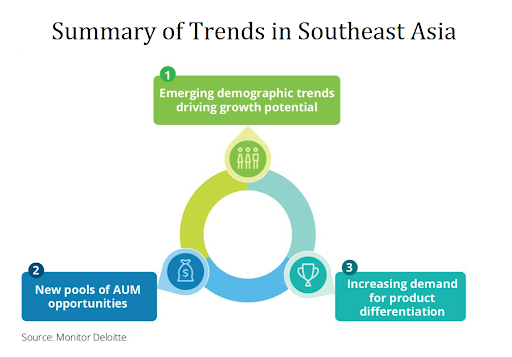 This diagram lays the foundation for why this region is going to be so critical in the coming years. The demographics of the area are rapidly shifting as a result of strengthening economic conditions in the area. The shift will create new gaps and needs in the market, representing new investment opportunities as new offerings will be required to fill them.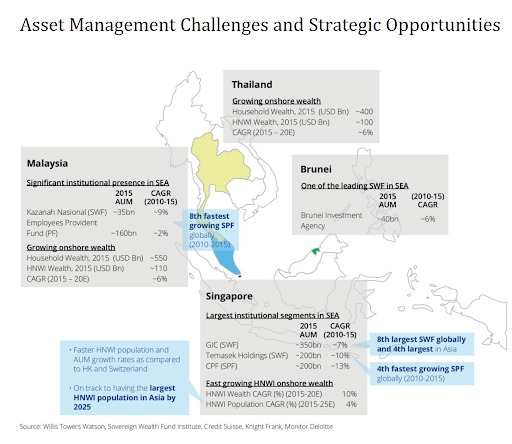 Assets under management in the region continue to grow, residing within the institutional high net worth and retail investment channels. Though there are many options available for investment, it would behoove investors to focus on the fastest-growing opportunities, such as sovereign wealth funds, pension funds, and onshore wealth.
Millennials and Digital Assets are a Winning Combination

Millennials are the first generation to have experienced the developments of digital assets firsthand, and as they have matured alongside this market, they have faith in the technology that has not been matched by older generations. A survey done in the United States found some striking responses:
66% of millennials that trade digital assets trust them more than traditional securities

Of millennials that do not trade them, a third still trust them more than the stock market

93% of millennial traders would feel more inclined to put more money in digital assets if traditional institutions were more involved with them
Millennials in Southeast Asia now comprise over half of the Southeast Asia population and are now at stages in their lives where they will have the financial wherewithal, the inclination, the means, and the opportunity to invest in and utilize digital asset services. Additionally, they are just as technology-savvy as their US counterparts; over 10% of millennials in Southeast Asia make peer-to-peer financial transactions through a mobile device, making digital asset offerings a perfect fit for this demographic as they offer several competitive advantages over fiat wallets such as Google Pay.)
Additionally, the market share of cash in Southeast Asia is dwindling; cash usage is projected to drop from 57% to 43% by 2021, with debit and credit cards only poised to gain a percentage point or two; e-wallets and mobile banking will claim the rest of this piece of the pie. Finally, keep in mind that 90% of Internet users in Southeast Asia are also smartphone users, giving them truly global accessibility, and they spend almost twice as much time on mobile Internet compared to their US counterparts.
Growing Digitalization Within the Region
Southeast Asia's Internet usage rose 21% between 2015 from 2017 among its population, making it the third-largest mobile market in the world. Large tech companies such as Google and Facebook are investing heavily within the region as well, such as with Facebook's Internet.org initiative to reach untapped markets and bring them online. There is undisputed interest in extending markets into Southeast Asia, and for good reason; it is projected that the region will reach 480 million Internet users by 2020, at which point it will have well surpassed the entire population of the United States.
This increasing digitalization projects leaps and bounds in the growth of e-commerce. Although the e-commerce market is still quite young, increased digital and smartphone penetration means that market growth is sure to follow shortly thereafter. Other areas have already shown strong growth as a result of increasing digitalization. Digital entertainment market offerings such as live streaming, gaming, and other bandwidth-intensive applications are projected to increase by 90% or more between 2016 and 2021. Given that many of these applications often encourage small monetary transactions between content creators and users (e.g. "tips"), this represents another strong potential use case for digital assets among their users.
Broadband and Mobile Infrastructure Has a Plan to Grow
The increased broadband offering has a measurable effect on GDP growth; various studies have shown that increasing broadband accessibility by 10% will boost a country's GDP by 0.16% to 0.25%. Furthermore, doubling the speed of said broadband can boost it up to 0.30%. Increasing broadband also inevitably results in a more highly trained, smarter, and more productive workforce. Some countries within the region are still working to catch up in this regard, while others are already enjoying the fruits of having done so; but overall, the need and impetus quite clearly exist to do so, as the benefits cannot be ignored.
The ASEAN ICT Masterplan 2020 has identified three primary areas of improvement: improve access and connectivity, manage the threat of natural disasters, and promoting cloud computing. Additionally, the plan focuses on reducing the previously mentioned disparities and bringing lagging countries' infrastructures upwards so they can compete on a global stage. Although the way forward is challenging, especially due to cross-border politics and unique infrastructure needs due to submarine cables being utilized, there is a concrete, definite plan at this point to continue to advance broadband infrastructure in the region.
How Digital Assets Fit Into Everything
These three categories of growth dovetail into the inevitable adoption and promotion of digital assets within Southeast Asia. The ingredients for a market explosion are evident in the area: a technically-savvy young cohort that sees the benefits and use cases of digital assets, an exploding mobile market base, and plans that recognize the need for the networking infrastructure that asset applications rely on to function. Thailand, in particular, leads the pack in digital asset adoption, with the government working to streamline regulation to give them an environment it can thrive in, and with every major bank having invested or offering them on an institutional or retail level, this represents a vast opportunity for digital asset markets to mature alongside these growing economies.

If you have questions about our fund or would like to be sent investor documents, you can contact our investor relations department at contact@varys.capital.